It is an interesting experience if you have never been in a bodega before but it is very expensive and too "professional": It lacks of the heart and touch that surely made this bodega so worldwide acclaimed.
In the South of Andalucia, at Jerez de la Frontera, is located bodegas Gonzalez Byass. This bodega is world-famous for its renowned Tio Pepe Fino wine. The bodega is at calle Manuel Maria Gonzalez. Very near the historical city center.
Gonzalez Byass bodega is open for visits all the year with five visits per day, except Sundays when there are only two.
First thing to do when you arrive is getting a ticket, it is an expensive tour, the cheapest one cost around 11EUR and grants you a tasting of Tio Pepe Fino and Croft Pale Cream.
If you think twice about it, it costs you the same that visiting Alhambra in Granada or a bit more than visiting Museo del Prado in Madrid.
There are tours in English, Deustch and in Spanish.
The tour

First, we saw the impresive Real Bodega de la Concha designed by Gustav Eiffel and build in 1869 where Queen Isabel II was received when she visited the bodega. This bodega holds around 200 casks with flags of the countries where Gonzalez Byass wines are sold along with flags of the Spanish regions and the coat-of-arms of the Gonzalez and Byass families.
Then time for a tour in train.
We saw a place that showed several broken oak casks to be repaired along with the tools to do the work.

Path of Brandy: Distillation of the Lepanto brandy

We were taken to the lower part of the bodega where it is stored the Lepanto Brandy. They showed us the old stills used to distill the brandy and explained overall the process.

The old stills are placed inside bodega San Manuel and there are two swan-neck stills, similars to the one used to distill Scotch whisky but smaller.

First the wine was placed on the left still to be distillate and then distilled again in a second still and left to condense in a worm tube on the right. The resulting newmake is called "Holanda" and is at around 65% alcohol volume. I could nose the resulting new make and the mature Lepanto Brandy. The holanda reminds me a lot of Grappa, much of its notes where still present in the final brandy of 12 years old.
This holanda is then aged using a Criaderas and Solera scheme in american oak casks which before have contained sherry wine, until the brandy has at least 12 years old.
Time to move. While in the train we saw the new distillery with is shinning copper stills.
The Wine Bodegas

We arrive at Bodega La Cuadrada Croft and our guide showed us the tools used to take the grapes from the fields and the tools to convert that grapes into mosto ( grape juice ).
Originally the mosto was elaborated when the grapes grew because the delicate fruits would arrive in a bad condition to the bodega but today they are processed in a central location.
Finally through the bodega, which was full of "andadas" of casks containing Croft Original, we were taken to see a movie about Tio Pepe and the origins of the bodega founded by Manuel Maria Gonzalez.

Through this bodega we reach Bodega Los Apostoles, which have an impressive oak cask called "El Cristo" which can contain 33 of the small normal casks, each of them containing around 540 litres. Along the Christ there are twelve casks called "Apostoles" which contains the excellent Palo Cortado from Gonzalez Byass.

On a corner of the room there were also several smaller very old casks made of cherry tree instead of oak and that are more than 300 years old. They now keep Amontillado El Duque inside it.
Bodega Tio Pepe

Then we proceeded to the big Bodega del Tio Pepe.
An impressive building designed by Eduardo Torroja and built in 1963 which is dedicated to ageing of Tio Pepe.
Tasting Tio Pepe and Croft

There we tasted a fino and a pale cream ( fino mixed with a sweet wine: Moscatel or Pedro ximenez ).
My impression
If you skip the fact that this tour was worth 11EUR per person it is an interesting visit, but if you speak spanish move a bit around Jerez and visit another small bodegas and you will get a better view of how sherry wine is done and the care and love it is placed in its creation.
Tasting notes of Gonzalez Byass wines and brandies
Sherry wines
VORS wines aged more than 30 years old
Brandy
Soberano
"Not bad, just too much alcohol on the nose. It is a pity because it shows great vanilla notes."
77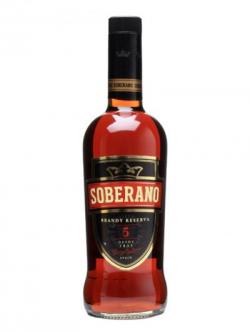 Soberano Brandy De Jerez is a sublime mellow Brandy of exceptional character from Gonzalez Byass.

This dram has a cooper-like color.

Nose (78): more than average. vanilla, alcohol, grapes, floral.

Palate (79): light, smooth. vanilla, grapes, floral, cinnamon, nuts.

Finish (75): average. wood, nuts, vanilla.

So based on other whiskies I have already tasted I rate this Soberano with 77 points over 100.
Buy this bottle at
Save money when you buy Brandy online. Check for the best prices from best online shops below:






Lepanto Brandy
"Good brandy with lots of notes from sherry wines, I think it is Amontillado."
85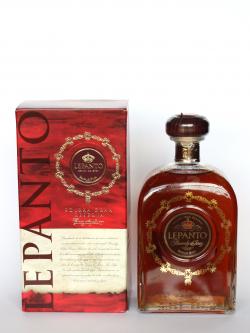 Produced from the distillation from carefully selected grapes, this exceptional Solera Gran Reserva Brandy has been aged in American Oak barrels, using the traditional ageing system, which have previously contained one of our best Sherry Wines, Tio Pepe. With a golden amber colour, Lepanto has a special bouquet of aromas with traces of oak, which gives a smooth, round and light flavour to the palate.

This dram has a cooper-like color.

Nose (84): more than average. grapes, floral, vanilla, wood, nuts.

Palate (85): smooth, oily, powerful. grapes, floral, wood, spices, vanilla, hazelnuts.

Finish (85): very long. vanilla, grapes, wood.

So based on other whiskies I have already tasted I rate this Lepanto Brandy with 85 points over 100.
Buy this bottle at
Save money when you buy Brandy online. Check for the best prices from best online shops below: