Master of Malt sent me a press release about a new blended whisky they recently created in collaboration with Carey Willets to celebrate Mr Willets' solo music project: Boxes
Well, not knowing about Boxes and his album Stickers, you can understand that my excitement about this whisky was quite low. But just a few days ago, a sample, courtesy of Master of Malt, arrived home and I felt it was my duty to taste it and just complete the job…

Without much enthusiasm I poured the whisky and tasted it.
"Quite happy with this Boxes whisky. Just a bit light for my taste to consider it something great but definitively a very good blended whisky"
89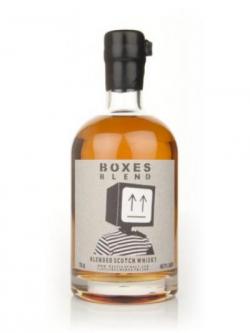 Boxes Blend is a whisky put together by none other than Athlete bassist Carey Willets. The blend is named after his new solo project, an electro pop adventure that's already garnering some great reviews.

This dram has a amber-like color.

Nose (90): more than average. honey, wood, smoke, vanilla, citrus, nuts. Sherried vanilla aromas with more than a hint of smoke.

Palate (89): light, smooth. peat, honey, wood, citrus, vanilla, nuts.

Finish (89): longer than average. peat, vanilla.

So based on other whiskies I have already tasted I rate this Boxes Blend with 89 points over 100.
Buy this bottle at
Save money when you buy Single Malt Whisky online. Check for the best prices from best online shops below:
Miguel says
Woo! I see they created a blend to suit most people because it is a bit light for my taste, but man! what a blend… if you enjoy it I suggest you give a try to Compass Box Flaming Heart and enjoy a real diamond.
This dram may have been a great one for me if it would have been bottled at 46% or with a bit less of light grain whisky. A very good one nonetheless…
You can watch Carey Willets' Stickers at a live recording