"The peat hammer of Thor from Highland Park. But what does a nordic god have to do with sherry?"
89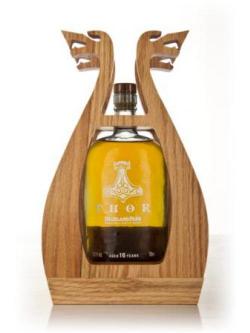 The beginning of a new range of four whiskies from Highland Park, The Valhalla Collection.

Valhalla Collection shows off Orkney's ancient links with Scandinavia and the distillery's love of history.

First up is Thor, God of Thunder and alleged architect of the Cliffs of Yesnaby on the west coast of Orkney Mainland.

It's a 16 year old whisky bottled at a full proof of 52.1% and presented in a wooden frame styled after the prow of a viking longboat.


This dram has a cooper-like color.

Nose (90): more than average. peat, honey, spices, dried fruits, citrus, almonds. Massive nose.

Palate (89): powerful, oily. peat, nuts, wood, honey, spices, vanilla, citrus. Slightly unbalanced sherry taste but still very nice.

Finish (89): longer than average. Peat, honey, spices.

So based on other whiskies I have already tasted I rate this Highland Park Thor - 16 Year Old with 89 points over 100.