A few days ago I received a miniature of this Karuizawa 1964. This is the second special release done by Wealth Solutions, whose mission is to provide unique ( and expensive! ) products to Polish collectors and investors, after an incredible 58 years old Glenfarclas.
This Karuizawa is bottled from the left stock of the distillery that closed it doors just after turning into the new millennia. Number One Drinks acquired all the existing casks of Karuizawa in August 2011 and they have provided this sensational cask for Wealth Solutions.
This special Japanese whisky has been bottled by Wealth Solutions from one of the oldest and few remaining 1960s cask of Karuizawa. This cask #3603 was a 400 litres Olosoro sherry Oak Butt. It has been bottled at 57.7% ABV.
It was filled on 1st September 1964 and bottled on Christmas Eve 2012 which makes it one of the oldest Japanese whisky ever bottled with 48 years old. Barely 143 bottles of this whisky will be available ( greedy angels! ).
There are several things that make Karuizawa quite unique and a tragic lost: they used only Golden Promise barley for their whiskies that although produces less alcohol on distillation create better whiskies when aged for a long time, they used peated malt from Scotland until they decided to start using in 1990s unpeated malt in a last try to catch with japanese consumers and to be my surprise most of the whisky was sold for blending. So in fact it is a real miracle to have this whisky in my hands.
Let's taste it ( haha! Sorry, I am going to taste, you keep reading ) and then I share my thoughts.


"Gorgeous! This Karuizawa has one of the best sherried noses that I have ever seen. Not a whisky for newcomers, it needs time and lots of attention to disclose it greatness. The more it is on the glass the more I like it"
94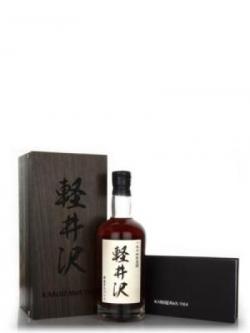 Bottled at a whopping 48 years old this Karuizawa is a stunning whisky bottled by Wealth Solutions from one of the oldest casks ever released.

Aged for 48years on Oloroso Butt number 3603 and bottled at an incredible 57.7% ABV.
Only 143 bottles worldwide.

This dram has a mahogany-like color.

Nose (95): more than average. nuts, citrus, wood, spices, chocolate, citrus, pine. One of the best Oloroso noses that I have ever tasted. Just grant it a good amount of time to open.

Palate (94): dry, powerful. honey, citrus, wood, spices, pepper, some smoke, nuts, cocoa.

Finish (93): longer than average. wood, spices, smoke, citrus.

So based on other whiskies I have already tasted I rate this Karuizawa 48 Year Old 1964 Cask 3603 with 94 points over 100.

Miguel says
Mother of God! Oh my! The first sniff is very promising, showing a whisky very old, very complex. Just wait, give it ten or twenty minutes, let it breath and you will be rewarded with one of the best sherried noses that I have ever tasted.
Then taste it and you will have a marvellous, long forgotten experience of sherry, nuts, smoke, wood and spices. I don't add water to whisky and this has been no exception. Its finish is so long that five hours after tasting it, this Karuizawa was still reverberating in my mouth.
When I saw the bottle I even consider buying the only one that it is for sale at Master of Malt… but then I decided that it wasn't worth the physical pain my wife would inflict me for expending years of saving into a bottled jewel. Psss… Women…
UPDATE: Holy shit! I have found some money and I am going to buy it!