The Kiss is a discreet expression of Klimt's emphasis on eroticism and the liberation therein.
The picture
The Kiss (original Der Kuss) was painted by Gustav Klimt, and is probably his most famous work. He began work on it in 1907 and it is the highpoint of his so-called 'Golden Period'. It depicts a couple, in various shades of gold and symbols, sharing a kiss against a bronze background.
When he painted The Kiss Klimt was 45 and still lived at home with his mother and two unmarried sisters – but behind the respectable facade he was a man with a ferocious sexual appetite. Klimt fathered at least three illegitimate children and probably many more. He was obsessed by women and he had a fixation with redheads. It is no surprise that the woman in The Kiss has red hair. According to writer Frank Whitford: "Together the man and the woman form the shape of a penis and I think that is intentional – it's about sex and about the fulfillment of sex between a man and a woman."
The Dram: Compass Box The Spice Tree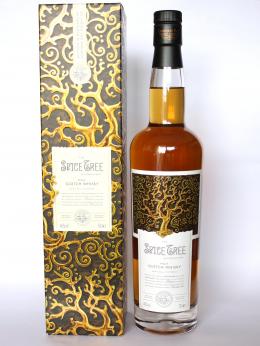 Compass Box's delicious Spice Tree was briefly illegitimate, according to SWA regulations. After adjusting it's creation, Spice Tree is back, and better than ever. It's a blended malt made from Highland malt whiskies, aged in specially made casks with new French oak heads.
[buy-button permalink="compass-box-the-spice-tree"]