Hello Amigos!,
Barely a month ago I drank an ice-cold Tequila Sunrise after lunch, and so impressed I was that I decided I had to learn more about Tequila. So here it is this huge ( and I mean HUGE! ) article about Tequila, Mezcal and Mexico. I have tasted twenty tequilas for the occasion and to my surprise ( and your perhaps ) I have tasted one better than many Scotch whiskies I have tried in the last three years.
So, click play on the video to get the spirit into you and keep reading with me.
So, what the hell is Tequila? Point one, forget any stuff that you have previously drank and made you unconscious.
Tequila is a spirit distilled from particular type of cactus called agave ( in fact it is distilled from a single agave type called Blue Agave Tequilana ) and much like brandy two different styles of tequilas depending on their origin:
Tequila that is the beverage that contains at least 51% of agave juice and the rest are other sugars ( from other grains like corn or malt )
100% Tequila that is composed completely of agave juice.
Each of these two types can be found on the next classification:
Blanco, unaged, plata, White are tequilas that haven't touch any barrel, straight from the still.
Joven, Oro, Gold are tequilas with a part of ańejo or reposado tequilas and blended with tequila blanco.
Reposado are tequilas aged from 2 months up to 1 year in oak casks.
Ańejo are tequilas aged from 1 year up to 3 years in oak casks
Extra Ańejo or Ultra aged are tequilas aged for more than three years ( and here is where the fantastic stuff is )
The younger the product the more "raw" and "newmake-like" it is. So if you happen not to enjoy new make or moonshine as I do, get a Tequila Ańejo or older. Anyway, I have to say that I have enjoyed some of the Blanco Tequilas but most of them are too raw for me.
How Tequila is made
So where tequila comes from? Tequila is a distilled beverage made from the fermeted juice, also known as pulque, of the Blue Agave, mainly around the city of Tequila in Jalisco, Mexico.
Pulque is made using a different variety of Agave but never using blue agave.
Tequila is made in a quite different way of whisky. There are several step in the process
Planting and harvesting Agave
The Blue Agave has to be planted around twelve years before the harvest so it has time to grow. When the agave is ready, a jimador will cut the plant and remove all but the core that weight around 80-90 kg. That is what will be used for tequila and it is called pińa, spanish word for pineapple.
Cooking the pińa
Then the pińa is cut in halves and cooked in huge ovens so the starches turns into sugar that will be later fermented into alcohol.
Mezcal is done much like Tequila but using different kind of agave and as the result of the different way of extracting sugars from the pińa, it is a smoky spirit, think of it as an Islay Tequila :), and it is because the agave is cooked in a huge pit like a barbecue.
The resulting product is milled and mixed with hot water.
This step is much like the process than happens on the washback of scotch whisky.
Fermentation
The agave juice is the either send to the fermentation tanks or mixed with other sugars and send to the fermentation tanks. 100% Agave Tequila contains only juices from Agave pińas.
Then the yeast works on the liquid and a slightly alcoholic "beer" appears. Sounds familiar?
Distillation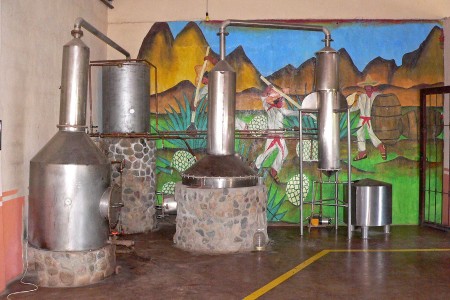 Not much is talked about the still but for what I have seen several producers uses column stills to get the tequila and it is distilled always at least two times with some craftwers going to three or four distillations. The photo above features a double distillation pot stills system, much like scotch.
Aging
Tequila is aged in oak casks, most of them coming from the huge bourbon industry of the United. So white oak is the most common type of casks. Usually tequila is sold unaged or aged for up to a year. Lately it has entered into the premiumisation of the product and it is aged for more than three years and the result are drams that can rival with best scotch whiskies ( to my amazement! ).
The Whiskies, erm, I mean, the Tequilas
Enough chit-chat, lets taste the product. I have tasted all of them straight, with no water added and in the same glasses that I enjoy whisky.
By the way, as usual, I have tasted the following tequila without knowing the name or the brand or the alcohol abv.
Sauza Tres Generaciones Silver Tequila
Mano Negra Espadin
Don Julio Blanco Tequila
Tequila Chamucos Blanco
Clase Azul Plata
Sombra
Jose Cuervo Reserva de la Familia Tequila
Siete Leguas Tequila Ańejo
Two Fingers Gold Tequila
Herradura Tequila Ańejo
Corralejo Tequila Reposado
Sauza Tres Generaciones Tequila Ańejo
Jose Cuervo Reserva de la Familia Tequila
Patron Tequila Ańejo
Hacienda de Chihuahua Sotol Reposado
Jose Cuervo Especial Gold Tequila
La Penca Mezcal
What the fuck! I have just realized that I tasted a tequila with worms inside. That's definitively a point down for blind tastings… I will keep this in mind for future bizarre stuff tastings.
Clase Azul Tequila Reposado
Ocho Tequila Curado
Herradura Tequila Reposado
"The Herradura AƱejo is so much better... this one is lighter and the agave profile isn't as bold as other Reposado tequilas I have had"
77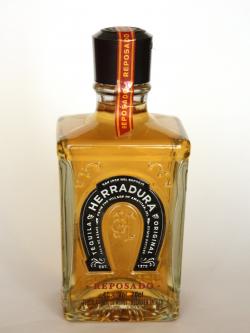 70cl / 40% - Aged for 11 months (just one month short of being classed as an anejo), Herradura claim to be the first company to age their tequilas in wood, making this the first ever reposado. Superbly integrated flavours.

This dram has a fino-like color.

Nose (75): average. .

Palate (78): powerful, oily. honey, floral, agave, liquorice, spices.

Finish (77): longer than average. agave, floral, honey.

So based on other whiskies I have already tasted I rate this Herradura Reposado Tequila with 77 points over 100.
Buy this bottle at
Save money when you buy Tequila online. Check for the best prices from best online shops below:






Miguel says…
A real surprise! I had in my mind tequila as an inferior beverage that gave you headaches but I have discovered a wonderful spirit, even in the unaged variants ( of which I am no fan ). I wanted to buy a Tequila for my Margaritas and my Tequila Sunrise so I finally opted for Herradura Reposado ( although I have to say that I though I was buying the Ańejo bottle :P ) because a full bottle was in offer for £15.
Another huge surprise has been the Mezcal stuff, I didn't even know what it was. If an Islay whisky ever has sex with a Tequila, it would be Mezcal the result. Smoky drams with lots of barbecue notes. Quite surprising and interesting, unfortunately if you think whisky prices are nut just wait to see how much you will have to pay for mezcal. :(
This month I have really run out of whisky ( or other alcohol money ) with my acquisition of Glenlivet Alpha and my new hobby, LEGO, but next month I plan to buy a bottle of Jose Cuervo Reserva de la Familia, a real cracker!.
That's all by now folks.
PS: A huge thanks to Rubén Ubric of Casa Tequilera Azteca for the corrections on the process of making Tequila and its differences with Mezcal